---
After three decades of feeding Toronto, we know one thing for sure: good food speaks for itself. Why? Because it makes you feel good. We see it every day - healthy, fresh food that is made with love makes people happy. And that means the world to us.
We could tell you about our uncompromising commitment to fresh ingredients and honest flavours. We could describe our meticulous attention to detail. But instead, come and see the vibrant colours of our salad bar. Smell the slow-cooked roast beef. Take a bite of a sandwich that is thoughtfully layered with textures and flavours.
Taste for yourself that
every bite matters.
---
Where Good Food is Plentiful
At Pumpernickel's
we make food with equal parts love and obsession.
we put our heart into everything we make.
every soup, salad and sandwich is made from scratch.
we use only the freshest ingredients, right down to the smallest detail.
from the humble chickpea to the gourmet truffle, each ingredient is treated with care.
we're obsessed with consistency.
every day we strive to make healthy & creative food.
Every bite matters - so tell us what you think.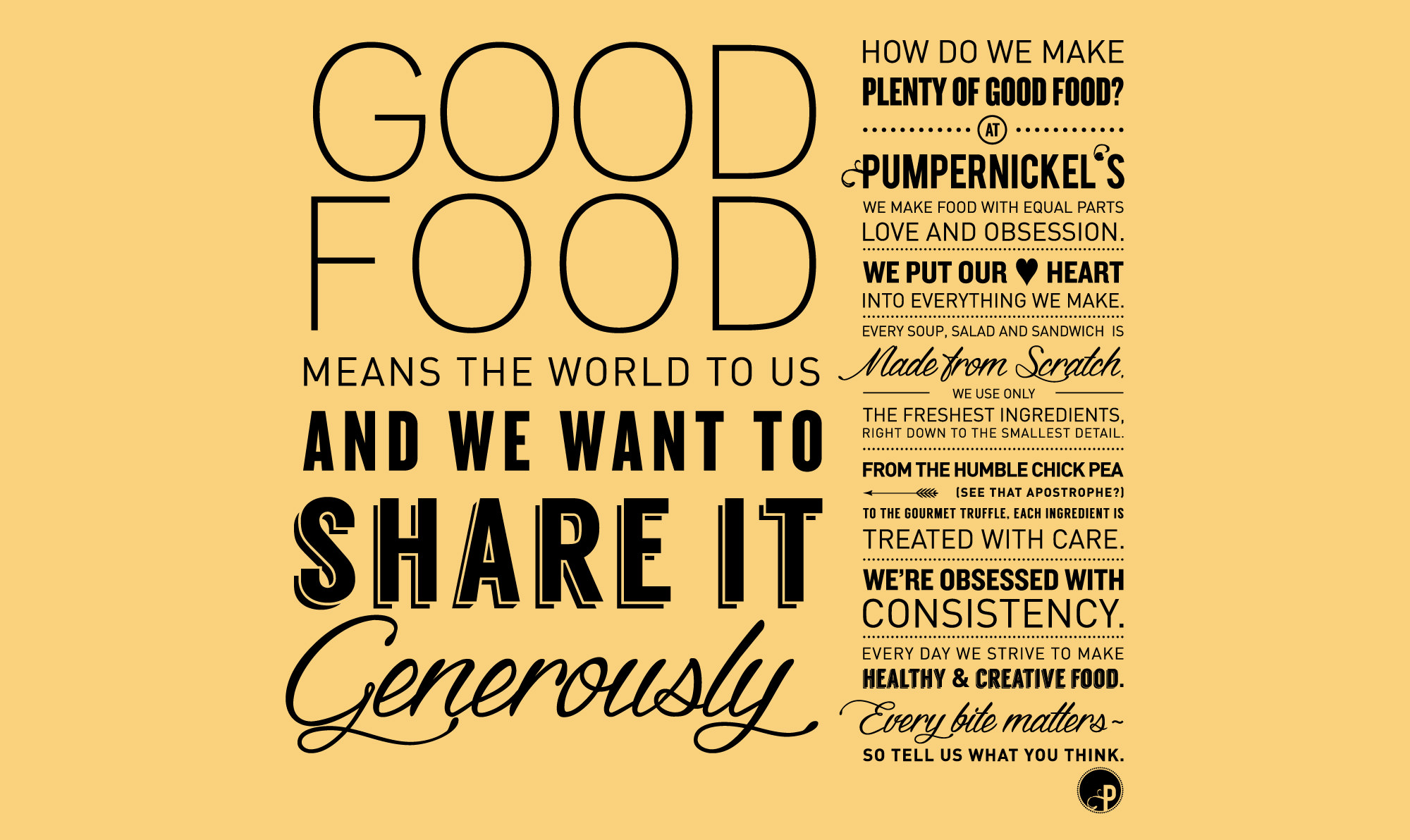 ---
What do our customers have to say about Pumpernickel's ?
TWO THUMBS UP
"Two thumbs up from all of us at Bamberger! The presentation was beautiful, and everyone raved at the great selection of healthy items we had. All the items were fabulous, especially the salmon nicoise & grilled chicken. We are very impressed at the high quality food and really great service we've received from your team. You've definitely got a regular customer!"
- Jazmine Sangalang, Bapoly -
EXTREMELY TASTY & FRESH
"Usually I just order the food but today I actually tried one of the grilled baguette sandwiches……loved it. It was extremely tasty and fresh. I loved the combination of the grilled onions and Brie served with the crispy baguette. They are really good quality sandwiches. Some of the invited guests come up to me after the meeting and ask me where I ordered the food."
- Paula Costa, Clover Tool Manufacturing -
OUR COMPLIMENTS TO THE CHEFS & ALL STAFF
"The food from Pumpernickel's was thoroughly enjoyed by all. The quality and presentation were excellent, and we really appreciated that you labelled the meat types for the sandwiches. The falafel platter, salad, and dessert tray were huge hits and we look forward to enjoying your catering again in the future. Our compliments to the chefs and all the staff involved with processing, preparing, and delivering our order."
- Deaglan, Foodbanks Canada -
THE CATERING WAS AMAZING
"The catering was amazing, and the quantity was more than expected. It was delivered before the expected time and set up perfectly. Everyone enjoyed their breakfasts."
- Amanda Hannays, Remax Vision Canada -
EVERYONE RAVED ABOUT THE FOOD
"The soup was a hit (especially already being hot) as was the food, but the highlight of the day was by far the chicken. Everyone raved about it. Thanks for making it a smooth catering experience. We will definitely be ordering again from your company."
- Sari, Camp Robinhood -
SOMETHING TO SATISFY EVERY TASTE
"The wraps were delicious and with the variety of the assorted platter, we were able to satisfy every taste. We definitely will give Pumpernickel a call if we need catering in the future."
- Margit, Aluminum Mold & Pattern Limited -
DESSERTS WERE TO DIE FOR
"The Pesto Capellini was the best I've ever eaten and the desserts were to die for! We will definitely be ordering from you again."
- Carolyn Atta, The Walker Group -
RAVE REVIEWS FROM MY EXECUTIVE TEAM
"I received rave reviews from my executive team on breakfast and lunch. This was the first time the team had lox and bagels for breakfast - it went [right] out of the box. One by one they were out of their chairs and with their fingers they started to sample items. They devoured almost everything. This is truly a great sign!"
- Danuta Garenczny, Diageo -
ABOVE-AND-BEYOND CUSTOMER SERVICE
"I really want to recognize the customer service I receive every time I place an order. Pumpernickel's customer service has always been above-and-beyond. Response times are always very quick and they make my life a lot easier. This is the reason why I rely on Pumpernickel's all the time."
- Kevin, Lego Canada -
---
GIVE PINK CAMPAIGN 2015
Pumpernickel's is a proud supporter of the Canadian Breast Cancer Foundation & their GIVE PINK campaign. In 2015, we donated $1 to the Foundation for every salad purchased during the month of May. Look out for when the annual GIVE PINK campaign comes on again. Put salad on your plate and do something good for yourself and for the cure.