Breakfast Catering Services in Toronto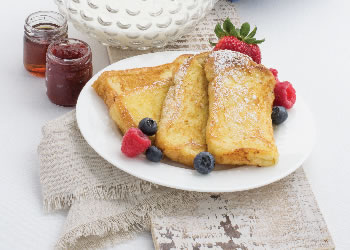 Breakfast Catering in Toronto
Rise and shine, its time for breakfast!
Breakfast catering is becoming increasingly popular. With businesses scheduling office meetings earlier and earlier, providing staff and clients with breakfast brings an ease and comfort to those morning schedules. From light continental breakfasts with fresh pastry and hot coffee to hearty power breakfasts with eggs and bacon, Let Pumpernickel's brighten your morning with our delicious breakfast menus.
Breakfast Catering Menu Choices

With breakfast being the most important meal of the day, Pumpernickel's offers an extensive breakfast menu with options for all. From healthy nutritious combinations to savoury comfort food, morning meetings with breakfast catering never tasted so good.
For light breakfasts or short meetings the Continental Breakfast is the most popular. Imagine hot brewed coffee and an assortment freshly baked pastries. Why not add a fruit platter for the extra vitamins.
Try some savoury egg sandwiches or take it to a whole new level with our chef gourmet egg sandwiches. All the classics of brioche bun and omelette with chef inspired spreads and topping combination. This breakfast experience is sure to satisfy and make you want to order again.
Full hot classic breakfasts with all the fixings are now even available in vegetarian options. Gluten free items can be arranged and parfaits are sure to be a hit with everyone. Try our Powerseed parfait for the health conscious eater or go for a deli classic of bagels with cream cheese and smoked salmon.
Whatever your morning preferences, contact our catering coordinators to arrange your next breakfast catering order and feel the power of a good breakfast.


Ordering and Delivery Information
Any of our menu items can be ordered online, over the phone or via email, including business and breakfast catering choices. We deliver to businesses within the GTA and aim to make the entire process hassle free for you. When ordering food, Pumpernickel's offers discounts for larger orders, and delivery is available during the week from 7:30 am to 5:30 pm. For early morning deliveries arrangements must be made for a contact person to receive the food. As some meetings are held early in the morning before building security is opened, please prearrange for security clearance so that the delivery will be possible. For information about weekend off-hour or holiday deliveries please inquire within.
Many Locations, Many Choices
Each of our locations serve deli classics from sandwich wraps to salads to gourmet desserts and snacks. When you need quick, affordable breakfast catering , Pumpernickel's is your best choice. Visit us at:
First Canadian Place, 100 King St West (Toronto).
Adelaide, 30 Adelaide St East (Toronto).
Brookfield Place, 161 Bay St. (Toronto).
Consilium Place, 200 Consilium Place (Scarborough).
Credit Valley, 2200 Eglington Ave West (Mississauga).
MaRS Discovery Centre, 101 College St (Toronto).
North American Centre, 5700 Yonge St (North York).
Robert Speck, 1 Robert Speck Parkway, Unit 105 (Mississauga).
Simcoe Place, 200 Front St West (Toronto).
Toronto Dominion Centre, 66 Wellington St West (Toronto).
Committed to Quality and Value
New restaurants and breakfast catering services come and go, but Pumpernickel's Deli and Catering was launched in 1986 and has never looked back. Company founders Shlomo and Zvia Ziv started the business with a small deli in First Canadian Place -- we are still in the same location, by the way -- and a simple philosophy: Good food is good business. Those five words have been the driving force behind everything the company does, because there is nothing more important than a client being satisfied with a meal they order at anyone of our locations, over the phone, online, and via email.
With more than a dozen locations through the Greater Toronto Area, we are committed to the communities in which we operate and have established relationships based on high quality food, hard work, and trusting in our clients to "keep us honest." If there is something we can do better, we want to know. In fact, we openly encourage feedback and will never turn a cheek when a client offers constructive criticism or an idea on how we can improve service. Of course, it means more coming from real customers, so checkout some of the feedback we have received to see what we mean.
Contact Pumpernickel's today for your breakfast catering needs
Visit us on Google+.