Corporate, Office & Business Events in Toronto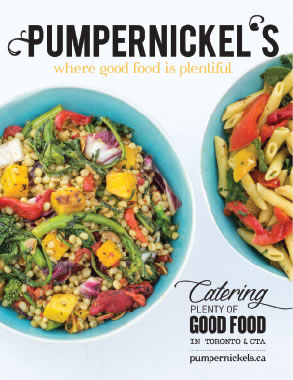 Welcome to Pumpernickel's.
We specialize in corporate and business catering throughout Toronto and the GTA. With 30 years of experience, our catering department will professionally and easily help you make all the arrangements necessary for your next meeting or event.
Our knowledgeable catering coordinators are available to assist you in planning and ordering for your meetings, breaks, seminars, or multi-day events.
Offering an extensive selection of menu options, we cover your needs from boardroom box lunches to host breakfasts, open houses, working lunches, birthdays, to mid-day snacks.
CORPORATE EVENTS MADE EASY
At Pumpernickel's we understand the fast pace and high pressure of a business day. That's why we want to make office catering as easy as possible for all of our customers. Let us take care of everything from confirming your order to providing you the freshest food on-time by our team of catering professionals. From last minute orders to pre-planned events, see how hassle free Pumpernickel's makes catering.
PRE-PLANNED CORPORATE EVENTS
Relax, We Will Handle the Details
Part of what has made our company so successful for more than 30 years is that we work with our corporate catering clients as partners. We have a vested interest in you hosting a successful, well received event, and that begins with detailed planning, execution, and customer service.

Custom Menu: Our catering and events consultants will help you plan meals based on your budget or any other requirement, including dietary and religious considerations, or whether your meal can be based on a certain theme.
One-Stop Shop: For your convenience, we can also take care of other details, like rentals for equipment/ furniture, alcoholic bar services, decor, entertainment, floral arrangements, staffing and so on, to allow for a seamless experience from start to finish.
Speak to our Events lead Stacey Collin for details.
Email: [email protected]
Phone: 416-510-1706 x 5001

CORPORATE CATERING
HOW TO ORDER:
There are several ways to place your next business catering order. If you know what you want or would simply like to browse options on your own, take a look at our online ordering system. You can order directly online and be assured that your order will be received and confirmed by a Pumpernickel's catering coordinator. Online ordering is quick, easy and has been the most popular way to order corporate catering.
Sometimes customers prefer to speak to a catering coordinator to ask questions and receive some guidance around menu planning and special requests. Our catering coordinators are waiting to talk to you Mon-Thurs between 8am -5:30pm and Friday 8am to 4:30pm.
Give us a call we are happy and ready to help.

416.863.9880 (Toronto & GTA)
Toll Free: 1877.308.4889 (Outside GTA)
In the cases where customers like to order from the Pumpernickel's catering brochure. You can either place your order online once you have decided on your order, or you can give us a call and we can place it for you.


BUSINESS CATERING DELIVERY
In making your next office catering event hassle free, Pumpernickel's will deliver your food on schedule right to your meeting. All food is packaged in a way to maintain freshness, but also displayed beautifully to entice the appetite.
From Artisinal sandwiches and salads to hot menu and hors d'oeuvres, your food will arrive and not disappoint. Please make sure that the contact person is at the location or that any special security clearances are sorted out prior to the delivery. You can talk to our catering coordinators regarding any special delivery instructions if necessary.
We take care of the details so that you can focus on your day.

HOW DO WE DO IT?
Since 1986 Pumpernickel's is a leader in corporate catering. It has been the premier deli and caterer in the Greater Toronto Area, with thousands of satisfied customers in North York, Toronto, Scarborough, and all points in between. Many of our kitchen catering locations are in the heart of Toronto's financial core. So we are able to accommodate almost any size of order with very short notice. We use only the freshest ingredients, and promise excellent customer service and value for all of your catering needs. As soon as you become our regular customer we will not let you down.
We can confidently offer something for every taste, budget, or occasion and look forward to being your stress-free catering choice.

Ready, Get Set, Go
Ready to plan your big corporate event but do not know how to start? Leave the stress behind and let Pumpernickel's friendly and experienced staff do all the heavy lifting. If you are looking for advice on the type of items best suited for corporate catering based on taste, religious, or dietary preferences, contact us today and we will be happy to talk about your options.
Catering Account Application
For any information regarding applying catering account, please call our main call center and catering office. We're open from Monday-Friday 8:00am-5:30pm
About Us
Pumpernickel's Deli and Catering opened its doors in 1986 in First Canadian Place when company founders Shlomo and Zvia Ziv took a liking to what appeared to be a "fruitless run-of-the-mill, over-the-counter deli" and soon turned it into a thriving breakfast and lunch destination for local businesses and employees. The secret to their success began with a simple philosophy that "Good food is good business," not to mention some fresh deli ideas, and a commitment to quality and hard work.
Contact Us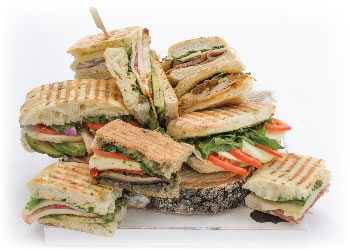 When it comes to corporate catering , we make it as easy as possible to contact us whenever needed. Pumpernickel's catering consultants are available during the week from 7:30 am to 5:30 pm or by e-mail.
Staff at our main catering office can be reached at:

416.863.9880 (Toronto & GTA)
Toll Free: 1877.308.4889 (Outside GTA)


For clients who wish to open a corporate catering account, please submit an online application. It is simple and easy, and someone from our staff will contact you promptly with more information and the status of your application.