Sandwich Catering Done Right
Sandwich Catering, Done Right.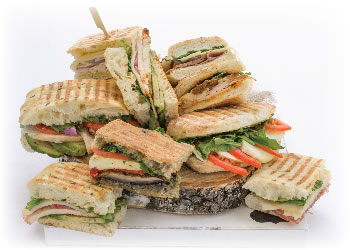 There is nothing quite like a delectable, fresh made sandwich for lunch, dinner, or even breakfast or a quick snack. Using only the finest ingredients and exhibiting a legendary commitment to quality, taste, and value, Pumpernickel's Deli & Catering has been the premier sandwich catering specialist in the Greater Toronto Area since 1986.

We started out very humbly in the beginning, setting up shop in the food court of First Canadian Place and knowing nothing about the food industry but driven by a singular philosophy: "Good food is good business." With a small menu of high quality and classic deli items, we soon found ourselves swamped with foot traffic -- not only from tenants in our building, but from nearby businesses and customers off the street. Since that time, we have expanded to include full catering services and now have 13 locations in the Greater Toronto Area.
Sandwich Catering Done Right
When it comes to sandwich catering , Pumpernickel's Deli & Catering has built its reputation and business on using fresh ingredients in every deli sandwich -- from beef, turkey, chicken, and tuna to mouth watering vegetarian items and everything else in between. There is no compromise between taste and value, and we have spent more than 25 years educating our dedicated staff on food done right. This includes training, selecting the right vendor partners, choosing the best ingredients, setting up kitchens and prep areas and dining rooms, and combining it all into a truly memorable experience for each customer.
The Pumpernickel's Difference
For many customers, sandwich catering looks like it has evolved into a science with a deli on every street corner and staff shuffling in and out, orders in hand, hurrying from one client location to the next. But at Pumpernickels, we have never lost sight of the idea that quality sandwiches -- food done right -- are a lost art. Of course, there is a certain process to actually making a sandwich, but the Pumpernickel's difference is in the excitement and joy we bring to creating each sandwich, rather than just slapping ingredients between slices of bread, buns, croissants, or bagels. Good food is good business, but the hidden part of the equation -- what makes all the ingredients jump on your taste buds in an explosion of delightful flavors -- is the fact we love what we do. Because we love what we do, each menu item is crafted accordingly.

Sandwich Catering for Every Occasion

Sandwiches are not just for lunch anymore. Our catering services are available upon demand, and can meet any client's schedule and price point. Whether you are planning an all day meeting at the office or school, an awards banquet, a seminar, or a family luncheon, our catering coordinators will help plan the details including the menu, delivery, setup, serving, and remove tables, chairs, and serving areas after your special event.
You Are There, and So Are We
It is not a stretch to say that you can easily reach a Pumpernickel's location in all major business and retail corridors throughout the Greater Toronto Area. Of course, we are still in our original location in First Canadian Place, but since opening our doors in 1986 have expanded to six other locations in Toronto, two in Mississauga, one in Scarborough, and one in North York. Regardless of which location you visit, each one features the same high quality foods and outstanding customer service that our company has been known for since the beginning.
Call us today at 877-308-4889 for more information on sandwich catering.
Visit us on Google+.