Business Catering for Your Important Meetings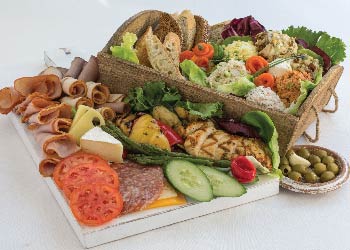 In 1986, Shlomo and Zvia Ziv put their faith and savings into a cafeteria in First Canadian Place and started Pumpernickel's Deli and Catering based on the idea: "Good food is good business." With a few original deli ideas in their heads and a commitment to fresh, healthy ingredients, the duo soon gained a large following and there was no turning back. Since then, Pumpernickel's has become famous for high quality business catering throughout the Greater Toronto Area, able to accommodate any sized crowd, tastes, or budget.
Business Catering for All Your Office Functions
"Back in the day," it used to be that companies only catered for "special" occasions like holiday parties or product launches, but that has all changed. In today's fast-paced business environment, companies often choose Pumpernickel's to cater for all of their events and functions:
Shareholder meetings.
Educational seminars.
Motivational events with guest speakers.
Team building events.
Quarterly earnings announcements.
Kick-off events for Social Media or traditional marketing campaigns.
Menu Choices for Every Taste
Pumpernickel's Deli and Catering specializes in tasty menu choices that can accommodate even the most finicky eater in any crowd. From fresh salads and sandwich wraps to delicious mini gourmet deli sliders and tantalizing desserts, we can whip up a truly memorable meal for any occasion. Some of our most popular business catering menu choices include:
An assortment of breakfast items (muffins, croissant sandwiches, omelettes, Canadian bacon), including juices and coffee.
Variety sandwich platters (beef, chicken, corned beef, among other choices).
Traditional deli platters, including Pumpernickel's famous Schnitzel.
Vegetarian meals and vegetable trays.
Desserts (fresh baked cookies, pastries, and cakes).

The Quickest Service
Unlike restaurants or some fast food chains that say they offer prompt and high quality business catering services, Pumpernickel's actually delivers on the promise of fresh, nutritious, and tasty food choices -- all the time, every time. No matter where your office is located within the Greater Toronto Area, chances are very good we have a deli location nearby for quick ordering and pick-up or delivery.
Pumpernickel's Deli and Catering has seven locations in Toronto, two in Mississauga, and one each in Scarborough and North York. Our corporate headquarters is in Vaughan. Catering orders can be placed Monday through Friday, 9 am to 530 pm, or anytime via email or online.
Online Ordering for Smaller business catering Needs
While our corporate business catering counselors are available to help plan your event, clients who know what they want are encouraged to use our online ordering system for smaller events. We have a full menu online to choose from, including breakfast items, gourmet sandwiches, snack platters, beverages, and many other items to choose from.
Corporate Accounts are Welcome
For more than 25 years, we have faithfully served hundreds of business clients throughout the Greater Toronto Area, many of who were our earliest customers and are still with us today. To make corporate catering easier in terms of ordering, billing, and delivery, we invite you to apply for a Pumpernickel's Catering account. Once the application has been submitted, we will contact you with more information as necessary.
At Pumpernickel's Deli and Catering, we decided a long time ago that the only way to earn a customer's business and respect was to serve freshly prepared food using high quality ingredients at prices they could afford. "Good food is good business" is more than just the philosophy we started with. It helps us stay focused, and to remember why our clients come back day after day. For more information,
Call Pumpernickel's today at 877-308-4889 for your business catering needs.
About Pumpernickel's
Since 1986 Pumpernickel's is a leader in corporate catering. It has been one the premier deli and caterers in Toronto, with thousands of satisfied customers in the GTA. Many of our kitchen locations are located within Toronto's financial core to provide timely services for catering in downtown Toronto. We use only the freshest ingredients, and promise excellent customer service and value for all of your catering services. As soon as you become our regular customer we will not let you down. We are one of the leading corporate catering companies in Toronto, which also offers breakfast catering and sandwich catering. Visit us on Google+.